Based in Devon Stoneman Stainless Limited started out as a trucker's hobby in the early 90's, manufacturing mirror guards and light bars for friends. Using his employers machinery in his spare time.
Since those early days the company has developed into a thriving business with new products continually being added to our range. With the exception of small Aluminium spacers supplied with just one product from the complete range, everything is manufactured from a high quality, highly polished Stainless Steel, this includes all fixings and fastenings.
Developing new products has kept Stoneman Stainless ahead of the general market place, using their own designs, developing from patterns and using jigs ensures that even for small batch quantities the repeatability of product is second to none. Because of the nature in which products have been developed the majority of them require no drilling of truck or product to fit them.
Stoneman Stainless is keen to keep the fitting of your newly acquired parts to your truck to a minimum of inconvenience, therefore ensuring minimum downtime. Wherever possible front grille light bars are designed to fit without obstructing towing eyes leaving them free to be used for the occasional off road excursion.
Our Robust range of mirror guards which are more of a necessity than an accessory here in the south west are produced with protection as well as looks in mind. Customers find the initial cost of the guards returned many fold in saved repairs by using these mirror protectors.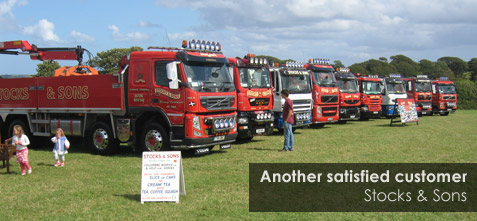 Please feel free to browse the site especially the catalogue pages and if you are thinking about having parts fitted to your truck or need some friendly advice as to the type of fitting you require then don't hesitate any longer get in touch with Stoneman Stainless on 01884 820214.
Feel free to browse around this site. If you any questions about our products or services, or simply need more information and want to contact us, visit the contact us page within this site.
Thanks for visiting and we look forward to helping you